Stilts for Dolls
When your child's dolls or other toys see him or her walking on stilts, they may become very jealous. Sibling-doll rivalry has been a problem for centuries. You prevent this domestic tragedy from occurring in your home by ensuring that dolls, action figures, stuffed animals, and other toys are properly equipped with their own pair of Frog Legs Doll Stilts, designed especially for them.
Three Sizes to Choose From
Approximate Heights:
Small: 10 inches (25 cm)
Medium: 14 inches (35 cm)
Large: 30 inches (75 cm)
Custom Sizes
The Doll Stilts' uprights are made longer than what will likely be used, both above and below the step. This allows you to trim the tops and bottoms to choose how high you want the steps and uprights' tops to be. Simply cut to the desired lengths.
Not for Humans!
Frog Legs Doll Stilts are NOT designed to hold the weight of even a small child. Our wooden doll stilts are designed for doll display, or for gentle use with dolls by children. Please do not attempt to stand on them.
Finish
Natural wood looks wonderful. Doll Stilts come with a single coat of teak oil. (Varathane or Spar Varnish, will cost a little more. Painting will cost yet a little more.)
Prices
Prices start at $12.00 per pair. This price includes shipping within the continental U.S.

Do you have pictures of doll or other toys on stilts? Send them to us and we will post them in our Stilts Gallery
Please Contact Us With Your Requests
Frog Legs also welcome special requests for custom designs. If you have something special in mind, please don't hesitate to contact us!

Stilts and Other Products by Frog Legs: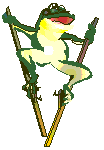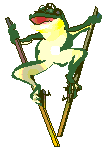 ---
Support the entrepreneurial spirit!
Buy Frog Legs wooden stilts, made in America.
Copyright © 1997 - 2008 Frog Legs Stilts - All rights reserved.