Peg Stilts & Quad Stilts:
Frog Legs has been asked many times if we will be designing peg stilts - the hands-free peg stilts used by performers. We have built several prototypes (including four-legged stilts; also called arm stilts or quad stilts.) The carefully designed special order models we've sold of these are constructed with ash and craft-grade Baltic birch plywood.
While we don't yet "officially" sell peg stilts, you can contact us and ask us about them. Or, you can find out more about peg stilts by visiting the following web sites:
Stilts Performers
Bill Coleman Stiltwalker Showman
Click on Bill's "Links" to find references to peg stilts.

.
Jon Koon's Jestmaster web site
Check out Jon's stilts related products.

.
Big Foot Stilts
Click on "Links" to find references to peg stilts.

.
Commercial Peg Stilts
- Oregon based peg stilts maker. Contact Kricket, 503-236-7327
or visit - PegStilts.com
Peg Stilts for Kids and Adults, Stilt Walking Lessons, Custom Puppets, and other Unique Art.
Everything woman veteran handmade by Kricket Caffery in Portland, OR USA
- These people apparently sell Strap-on Stilts.

.
If you are looking for commercial peg stilts, you should also do some Google searching on keywords like, "peg stilts", "circus stilts", "strap-on stilts" or variations of these. New pages are coming online all the time. Also, be sure you spend some time looking over the "Links" on all the sites above. There are quite a few possibilities there.
Stilts for Construction Workers
Frog Legs doesn't make them, but you can find them here:

.
Stilts and Other Products by Frog Legs: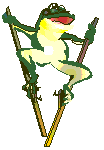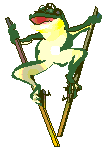 ---
Support the entrepreneurial spirit!
Buy Frog Legs wooden stilts, made in America.
Copyright © 1997 - 2008 Frog Legs Stilts - All rights reserved.