Traditional Stilts for Heavier Users
Frog Legs also makes a Heavy-Duty version of our Traditional stilts. This is accomplished by adding strengthening features to the sides of the stilts that allow heavier users. These have five-foot-high uprights (4' 11.5"). The top step maximum height is 24 inches. You may specify one additional setting (or two, but one is better, as each additional hole weakens the upright.)
The weight limit for our stronger stilts is about 225 pounds. Simply add $20.00 to the cost of our regular Traditional stilts. Specific design depends on intended use for these stilts. If you are interested in our extra-strong custom stilts, contact us!

Note: Training Feet are not recommended for use with heavy-duty stilts.
Taller Stilts
Frog Legs can also make a 6-foot version of our Heavy-Duty stilts. Please note that shipping anything over five feet long is quite expensive, currently as much as $48 to the east coast (a bit less to the west coast.) If you need even taller stilts, or would prefer not to invest in an (U)nmentioned (P)rominent (S)hipping company, please see our Collapsible Stilts:

Adult Tadpole Stilts
Sometimes we receive a request for adult-sized Tadpole Stilts. We are happy to accomodate such requests. Please contact us.

For more information about Tadpole stilts:

Short-Leg Syndrome
Frog Legs Stilts can be specially modified to accommodate users with Short-Leg Syndrome, usually at no added cost. Please contact us with your request.

Special Woods
Sometimes we make special purchase on different woods, such as oak, maple, and mahogany. If there is a particular wood that you just have to have, let us know. When we can offer these other woods, keep this in mind: Oak is a heavier wood and should be considered for heavier users. Mahogany is very beautiful, but is also very expensive.

Click for Larger Image

Click for Larger Image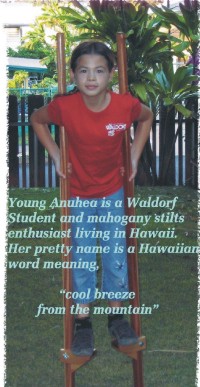 Click for Larger Image
Painted Wood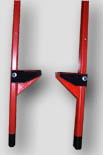 Red and Black Painted
Click for Larger Image Frankly, we love the look of varnished wood. But if someone really wants the wood painted, please let us know the particulars. Add $30.00 for three coats of one color. If more than ONE color is desired, contact us for more detail.
Please Contact Us With Your Requests
If you have something special in mind, please don't hesitate to contact us!

Stilts and Other Products by Frog Legs: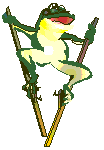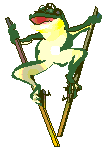 ---
Support the entrepreneurial spirit!
Buy Frog Legs wooden stilts, made in America.
Copyright © 1997 - 2008 Frog Legs Stilts - All rights reserved.