(NOTE: If you already placed your order, and have an e-mail from us with the amount to pay, make your payment here:

)
Contact Us BEFORE You Make Payment
Contact us first and tell us exactly how you want your stilts. The best way to contact us is by e-mail. Here's how to contact us:
E-mail Us:

First of all, be assured that we will never sell, rent, or give your email address to others. That being said, you can contact us at our primary e-mail address:
randy@froglegstilts.com
or our Secondary, back-up e-mail address:
r-r.warnock@toledotel.com

A Special Note About E-mail:

We reply PROMPTLY to every inquiry we receive. Every once in a great while, an e-mail gets lost. If you e-mail us and do not receive a reply within 24 hours, please e-mail again using the alternate e-mail address, or phone us.

Phone Us:

Please note: We are 3 hours earlier than those of you on the east coast. When you phone at 9:00am. your time, it is 6:00am here. We aren't quite in the groove at that hour. ~grin~. With that in mind, please feel free to phone with any question or special requests.

Frog Legs Stilts
(360) 864-4360

(360) 846-3413 cell

Write Us:

Frog Legs Stilts
668-A State Route 506
Toledo WA USA 98591
Stilts and Other Products by Frog Legs: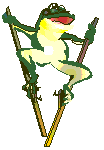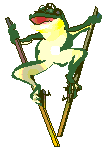 ---
Support the entrepreneurial spirit!
Buy Frog Legs wooden stilts, made in America.
Copyright © 1997 - 2008 Frog Legs Stilts - All rights reserved.