Why Collapsible Stilts?
Frog Legs has happily been making many 5- and 6-foot stilts for a number of years. But the (U)nnamed (P)rominent (S)hipping company's shipping charges for 6-foot boxes are outlandishly high. So we got to thinking: If we could build a pair of stilts that could be broken down into two parts for each upright, we could make them even a bit taller and still be able to ship the stilts in smaller boxes and get a shipping rate that is closer to being reasonable. Frog Legs Collapsible Stilts were born!
With Frog Legs Collapsible stilts are 7.5 feet tall the steps are adjustable to three heights: 18, 28, and 36 inches. (If you want different settings, just let us know.) But please be aware that the more height settings we make, the more holes there are in the wood. Each additional hole increases the risk of weakening the wood. Most will likely only want the three, or maybe only two.
The Joint: To allow for longer stilts, we join two pieces for the uprights. This special Frog Legs design is a FIRST for our hand-held stilts. The steps are restricted to the bottom halves, leaving the entire top pieces to serve as handles. Frog Leg's Collapsible Stilts go together and come apart easily. You will need a wrench to attach the uprights.




Uprights: The uprights (the long "poles" or "handles") of our handmade Collapsible stilts are in two parts: four-feet lower halves, and about three-and-a-half-feet upper halves. These stilts, when assembled will measure about seven-and-a-half feet tall! Quite possibly the tallest hand-held stilts on the Internet! The uprights are made of alder or ash. The handles are tooled to fit hands comfortably, and are carefully sanded to remove sharp edges.




Steps: The removable steps (the part of the stilts one stands on) are made of three pieces of wood that are both glued and fastened securely together.




Training Feet: While we have made Training Feet for these tall stilts, we do not recommend them. If you are a beginner, and think you may want Training Feet, please consider our Traditional Stilts:
NOTE: Wood selection subject to availability.
NOTE: Deliveries to Washington State add 8% Sales Tax.
Collapsible Stilts - Ash:

$105

Other Woods:
By request only. Contact Us
Two additional coats of finish: $30
Shipping in continental US:
$29 eastern states
$24 western states
Priority mail is also available


We accept payment via
VISA, Master Card, Discover, American Express,
PayPal, Money Order or Personal Check.


Materials:
Ash
Uprights:
1.5" x 1.25" x 7'
3.8cm x 3.2cm x 1.8m)
Step Type:
Adjustable
Step Heights:
as high as 36"
Step Top:
Step = 1.5 x 3.5 = 1.88 sq inches
(3.8cm x 3.2cm = 12.2cm

2

)
Foot Bottoms:
Rounded to 1 square inch
(6.45cm

2

)
Finish:
One coat teak oil (Varathane or Spar Varnish if requested)
Weight Limits:


160 lbs. at highest setting for ash.
Stilts and Other Products by Frog Legs: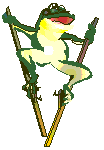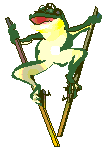 ---
Support the entrepreneurial spirit!
Buy Frog Legs wooden stilts, made in America.
Copyright © 1997 - 2008 Frog Legs Stilts - All rights reserved.