Make Your Payment - AFTER we have communicated first
After you contact us and order your stilts, we will send you a confirmation e-mail. Once you have that e-mail, there are several ways you can pay.
(If you have not yet placed your order, click here:

)
Pay with a Credit Card

We accept VISA, MasterCard, Discover, and American Express. Our authorized payment processor is PayPal. It is not necessary to have a PayPal account to pay using your credit card (though PayPal is pretty cool, and we recommend it.) There is no extra charge to you for using PayPal. To pay using a credit card, click here:

Pay with PayPal

If you already have a PayPal account, you can pay directly through PayPal. (If you don't already have a PayPal account, we recommend that you get one. It's easy, and it's free!) To pay using PayPal, click here:

Pay with a Check

If it's not possible for you to pay with a credit card, or through PayPal, we will accept a check. A cashier's check or Money Order is preferred, but we do accept personal checks. Mail checks to:

Frog Legs Stilts
668-A State Route 506
Toledo WA USA 98591
Stilts and Other Products by Frog Legs: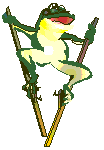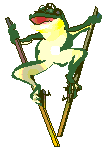 ---
Support the entrepreneurial spirit!
Buy Frog Legs wooden stilts, made in America.
Copyright © 1997 - 2008 Frog Legs Stilts - All rights reserved.