Tadpole Stilts - For Little Stilt Walkers
Frog Legs Tadpole Stilts are designed for children of age 5 to 7 or so, up to 80 pounds (36 kg.). Great for kindergartens, pre-schools, and day-care centers. These stilts make a great gift.


Click for Larger Image
Uprights: The uprights (the long "poles" or "handles") of our handmade Tadpole Stilts are 4 feet (1.2m) in length. The uprights are made of alder or ash. Occasionally we may offer fir or cedar, depending on availability. The handles are tooled to fit even very small hands comfortably, and are carefully sanded to remove sharp edges.


Click for Larger Image Steps: The non-removable steps (the part of the stilts the child stands on) are made of three pieces of wood that are both glued and fastened securely together. The tops of the steps are 6 inches (15cm) above the ground. The feet have a large contact area with the ground, 12 square inches, which provides an added measure of stability.
Age Recommendations: We recommend Frog Legs Tadpole Stilts for ages 5 to 7, depending on the size and physical ability of the individual child. Tadpole Stilts are specially designed for the younger or smaller child. Tadpole Stilts are great for developing balance and coordination and introducing a child to the wonderful world of stilts! However, most children will outgrow Tadpole Stilts in a few years. Some parents start with Tadpole Stilts and later upgrade to Frog Legs Traditional Stilts. Others prefer to start with Traditional Stilts with the optional removable training feet. We rely on you, the parent, to determine what is best for each individual child.
Finish: The stilts' uprights and steps are given a coat of Teak oil (Spar Varnish or Varathane if requested), to seal the wood. The stilts are ready for play without any additional finish. If you wish, you may add additional coats of finish for a deeper luster. Or, if you prefer, we will add two additional coats of finish. Allow four additional working days for extra finish, as the finish must dry completely between coats. For complete information on finishing, maintaining, and customizing your stilts,

.
Short-Leg Syndrome: Frog Legs Stilts can be specially modified to accommodate users with Short Leg Syndrome, usually at no added cost. Please phone or email your request.

Safety First: Stilts, like bicycles and skateboards, need to be used safely, and be properly maintained. Be aware that hardwood floors, concrete floors, and linoleum floors are slick and greater care should be taken when using the stilts. Too, the wooden tips may make marks on wood and linoleum floors.
At Frog Legs, safety always comes first. Before purchasing, we at Frog Legs ask that you please read this notice carefully: Safety, Maintenance, & Legal Disclaimer. It is an important part of your purchase.
NOTE: Wood selection subject to availability.
NOTE: Deliveries to Washington State add 8% Sales Tax.
Tadpole Stilts - Ash:

$55

Other Woods:
By request only.
Two additional coats of finish:
$20.00
Shipping in continental US:
$17.00 eastern states
Priority mail is also available


We accept payment via
VISA, Master Card, Discover, American Express,
PayPal, Money Order or Personal Check.


Materials:
Ash, (Alder, Fir, Hemlock, Cedar when available)
Uprights:
.75" x 1.5" x 4'
(1.9cm x 3.8cm x 1.2m)
Step Type:
Fixed
Step Height:
Tops are 6" (15cm) above ground.
Step Top:
2" x 3.5" = 7 square inches
(5cm x 9cm = 45cm

2

)
Foot bottoms:
4" x 3" = 12 square inches
(10.1cm x 7.6cm = 77.5cm

2

)
Finish:
One coat teak oil (Varathane or Spar Varnish if requested)
Weight Limits:
Alder:
Ash:

80 lbs. (36 kg.)
80 lbs. (36 kg.)
Stilts and Other Products by Frog Legs: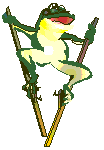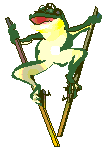 ---
Support the entrepreneurial spirit!
Buy Frog Legs wooden stilts, made in America.
Copyright © 1997 - 2008 Frog Legs Stilts - All rights reserved.