Safety First - Even in the Studio!
No frogs were injured too badly in the development of this product, or web site. Well, there was this one frog who volunteered (VOLUNTEERED, we stress) to model for our logo. She was quite a character! Very bold young lady.
Anyway, here we were taking photos of her standing on the stilts in our studio "pond" while she struggled to stand in one place. The bright lights had attracted bugs, as bright lights often do. Right in the midst of her better poses, these stinking bugs began buzzing around her head. It must have been her exuberant youth, or maybe her hunger (it was late morning, as I recall). At any rate, right as the cameras were clicking away, she... blapped at the bugs! Her remarkable froggy-tongue was all over the set, striking out at the whirling bugs! It was aMAZing to behold! I know she couldn't help herself. And I don't blame her. I really don't. But... well... As it turns out, she blapped rather carelessly and... well... she got her tongue stuck to a strobe light and was burned.
Our on-site photo-shoot physician announced that the burns were not serious, and Miss "Froggy" even apologized for being distracted. But our highly paid group of lawyers insisted on paying her a generous settlement which included a two weeks, all expenses paid, trip to Maui (one bug-haven if there ever was one.) We even got a post card from her. It showed a bug-bloated toad sun-bathing on a dazzling white sandy beach - with miss Froggy's own words, "Having a GREAT time 'burp!' Wish you were here." scrawled across the front. [That "burp" expression was actually on her message! What a character!]
So you see, while we did have one little teensy mishap, we were awfully careful to not hurt our frog-friends just to make a dollar.
We mean well. Really, we do.
Stilts and Other Products by Frog Legs: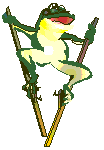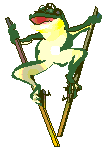 ---
Support the entrepreneurial spirit!
Buy Frog Legs wooden stilts, made in America.
Copyright © 1997 - 2008 Frog Legs Stilts - All rights reserved.