Stilts Photo Gallery
I love to get pictures from my customers! Plenty of old-fashioned fun! Send me your pics, and I'll post them here.
Young master Parts - in the winter

Mr. Parts lives in a snow state. Notice anything unusual in this January picture?

Nine year-old Justin in CO

Justin's Very Strong Stilts will hold him up for years to come - with or without the use of his tongue. His stilts were not made by Frog Legs, but by "Santa," says his Dad.

Matthew and Brandi's son in WA

Cameron's not only an artist, but he's a good kid.

Rebecca's son in MD

Her youngest is going for it!

Karen's son in PA

Jacob's a natural!

Sarah's group in Oklahoma

Family day at the Gilcrease museum saw many smiling faces.

Renata's group in Missouri

Hundreds of school children a year visit the Heritage Festival in the Ozarks to learn how kids had fun in times past.

Daniel, California

Daniel in the White Halls of Just Us.

Logan, North Carolina
3 pics
Logan, 11, took right to these tall stilts. These shots show him at the 36" setting.

Molly, where it snows.
1 pic
I think she's at the 36" setting, which would mean she's standing in about a foot of snow!

Suzanne, Washington State
9 pics
This 12 year-old young lady has many relatives to encourage her. From these pictures, it appears she was doing very well the first day!


2 pics
Benjamin's teaching someone else how to do it.


1 pic
The one on the left turned five about two weeks after this picture was taken. The one on the right is 6 and 1/2. What surprised me is that the youngest one just hopped up on the stilts and took off. His brother took a few tries to get started, but they both love them.

Bryna and Addy
7 pics
Here is a fine display of a well decorated doll and Frog Legs Stilts.

Send Us Your Pics!
Frog Legs is looking for some good-quality pictures of children, or adults, enjoying Frog Legs Stilts. We are looking for pictures of our customers having fun on:
Tadpole Stilts
Traditional Stilts
Traditional Stilts with Training Feet
Custom Stilts
Doll Stilts
Playing Games on Stilts
Picture Format
We prefer to receive images in .jpg or .gif format. If you don't have a digital camera or a scanner, you can mail us a copy the snapshots - but don't send us any originals you want to keep, because we cannot return the photos. Here is where to send the pictures: Contact Us

Stilts and Other Products by Frog Legs: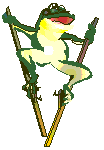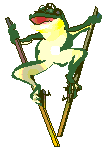 ---
Support the entrepreneurial spirit!
Buy Frog Legs wooden stilts, made in America.
Copyright © 1997 - 2008 Frog Legs Stilts - All rights reserved.