When I Was a Kid
I grew up in the '50s and '60s. My friends and I were quite self-sufficient when it came to finding fun things to do. My childhood took place in many places in Southern California, mostly Imperial Beach, California. I also lived in a place called Los Terrinitos, just east of Alpine off highway 8 (Alpine is east of San Diego), and two years in a housing project called Radford Terrace on Oahu, Hawaii. We explored everywhere and everything! We walked on rolling barrels, built forts, rafts, bows and arrows, spears, boomerangs, race carts with roller-skates nailed to the bottom of 2X4s, small hot air balloons made from plastic bags our parents got from the dry cleaners - all wonderfully crude. And we built stilts.
I can't remember where we got the wood and nails, but our stilts must have been built of 6 or 8 feet long 2X2's with pieces of 2X4's for the steps. The steps were cut at an angle and nailed enthusiastically to the upright poles. The last stilts we made were when we were 16 and living in Imperial Beach, California. Al MacKay and I built them with steps that may have been three feet from the ground. We were quite good on them. I don't remember sanding them, although we may have. But we survived the stilt-walking without serious splinters or even moderate injuries.
Stilts Nostalgia
Do you have warm (or even scary) memories of stilts you would like to share? Please let us know. Send your stories here: Contact Us
Stilts and Other Products by Frog Legs: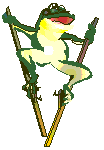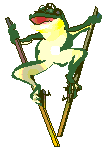 ---
Support the entrepreneurial spirit!
Buy Frog Legs wooden stilts, made in America.
Copyright © 1997 - 2008 Frog Legs Stilts - All rights reserved.