Stilts - A Rich Tradition
For centuries, wooden stilts have given many hours of wholesome fun to every generation of children - and adults - all around the world.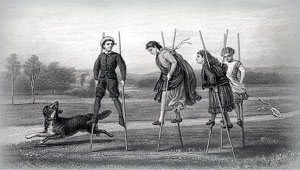 "Between School Hours"
Charles Edward Perugini (1839-1913)
Click for Larger Image
Stilts have long been popular toys for children - and are still as popular as ever! Stilts bring back memories from an older, simpler time, the "Olden Days."
Before the age of cheap plastic toys, children would make their own fun using ingenuity and imagination. This fun ranged from simple games like "kick the can" all the way to building their own wooden toys, toys such as go-carts, scooters, bows and arrows, and...Stilts!
Most, if not every one of you visiting this stilts site, have very warm stilts memories of your own.
Frog Legs Stilts - Just Like The Old Days
Since 1997 Frog Legs has been handcrafting traditional wooden stilts, and offering them through the Internet.
Frog Legs Stilts is not a sterile factory, with an endless assembly line, unfeelingly stamping out thousands of indistinguishable, perfectly-milled clones. All of our stilts are carefully handmade, giving these wooden toys a personality of their own. Our wooden stilts are solidly-constructed, using quality materials and a rugged, made-to-last design.
Working in his small shop, nestled among the firs, cedars, ash, and alders of rural Western Washington State, stiltsmaker Randy Warnock crafts each pair of Frog Legs stilts personally. Because each pair is individually crafted, Frog Legs can offer such a variety of different models and different kinds of wood. However, only a limited number of these authentic wooden toys are made each year. Frog Legs Stilts are not available in any store.
Frog Legs wooden walking stilts are available in these original designs:
Frog Legs Traditional Stilts
Traditional Stilts are our most popular design! These stilts are carefully designed to safely support children of all ages. To learn more,

.
Frog Legs Tadpole Stilts
Frog Legs has not forgotten the little ones either. Tadpole stilts are specially made for the youngest stilt-walkers, and are great for day care centers. To learn more,

.
Custom Stilts
Frog Legs will custom-design a pair of stilts to your specifications. Do you need taller stilts? Stronger stilts? A special wood? Stilts for a special purpose? To learn more,

.
Collapsible Stilts
Collapsible Stilts are taller, and the steps are set higher above the ground. To learn more,

.
Short-Leg Syndrome Stilts
Frog Legs can design a pair of our stilts for a youngster who has short-leg syndrome. To learn more,

.
Peg Stilts
Peg Stilts strap to your feet, leaving your hands free. To learn more,

.
Doll Stilts
Don't let your children's dolls or other tiny toy characters suffer envy when they see their owner having fun on stilts. Frog Legs also make miniature wooden stilts for dolls of various sizes. To learn more,

.
Stilts! The Gift that Helps Build Confidence and Develop Motor Skills
Here at Frog Legs, we like high-tech toys. But we also find enjoyment in simpler things. Young ones today are offered a zillion kinds high-tech entertainment. As responsible parents and grandparents, we also recognize the need to balance high-tech toys with simple, stimulating, physical activities. Stilts help to develop and strengthen young bodies, build confidence and coordination, and stimulate the imagination. Besides all that, stilts are just plain good old-fashioned FUN!
Frog Legs Stilts make a great out-of-the-ordinary gift. When you give the gift of handmade wooden stilts, you're not just giving a toy - you are giving the gift of good times, great family fun, and happy memories that will last a lifetime. Get in on the fun! Order today!

to continue to Traditional Stilts.
Stilts and Other Products by Frog Legs: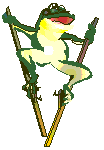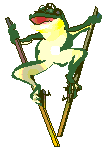 ---
Support the entrepreneurial spirit!
Buy Frog Legs wooden stilts, made in America.
Copyright © 1997 - 2008 Frog Legs Stilts - All rights reserved.